Thomson-Ducretet

---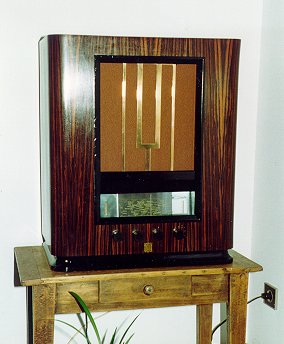 C 63 11
This receiver is exceptional by the quality of the assembly as well as the restoration by Thierry Chacornac. The emblem of the mark is a superb tuning fork which must be perfectly fixed, because this model is equiped of a 13 inches loudspeaker, and the bass tone isn't idle on the Long Waves...
Note that the peripheral suspension of the loudspeaker is made of chamois leather. The membrane as for it, is made of one single sheet cut and bent as a cone. A bakelite spider completes this loudspeaker which is particularly nervous and dynamic.
A complete restoration of the box has been necessary because its initial condition did not permit the presence on this site... Dismantling, sanding, two coats of varnish and wax application defeated the ascendancy over the time.
Technical features

Tuner part

SW
MW
LW
Variable selectivity

Electronic tubes

1 valve: 5Z3
1 HF tube: 77
1 mixer: 6D6
1 oscillator: 76
IF: 6D6 + 77
Detection and AGC: 6B7
Preamp: 75
Driver: 42 triode
Push-pull: 42

Output
Surround

1 switch at the rear of the set

Loudspeaker

Round of 13 inches with a chamois leather suspension

Input
Miscellaneous

Double demultiplication tuning knob
Shadow S meter
Photo: thanks to Thierry Chacornac
---