---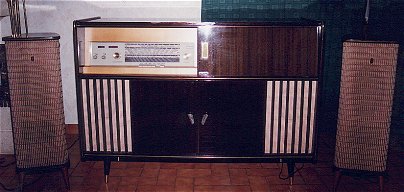 Stereo Gerät 25506
Highly versatile, this set can satisfy all our senses:
As usually, hearing is rocked by the music perfectly played.
Sight is flattered by the superb cabinetmaking.
Sense of smell is tickled by the soft odour emitted by tubes.
Touch discovers with pleasure the softness of the loudspeakers material.
Taste is fulfilled by the bottles stored in the Bar compartment...
This set is shown here with Grundig loudspeakers.
---

Restoration made on this model:
Technical features
Tuner part
Electronic tubes

1 ECC 85
1 ECH 81
1 EBF 89
1 ECC 83
1 ELL 80
1 EZ 80
1 EM 84

Output
Tone adjustments

a Low tone knob

a High tone knob

4 loudspeakers

PE 166 Turntable

Automatic record changer 16 2/3, 33 1/3, 45 and 78 RPM

Piezo-electric stereo head

Automatic disk size detection

Inputs

Stereo tape deck

Auxiliary

Miscellaneous

Bar !!!
Lightning of the turntable
Disks compartment
Photo : thanks to Maurice Genaudet
---