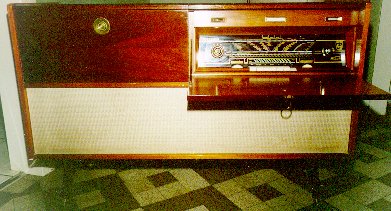 F8X12A/19
Even though equiped with EL 84 tubes, this model had high impedance loudspeakers (800 ohms). The main reason was certainly the massive production of these loudspeakers, famous for their relative fragility.
An interesting effect can be used during listening, this set has the bi-amplification. It is the Reverbeo effect which is got from a spring delay line installed at the bottom of the cabinet. A channel is used for direct listening while the other is supplied through the delay line. The proportion is adjusted with a balance potentiometer just as if the set was really stereo...
This effect gives the subjective impression of listening in an echoing room like a cathedral in example.
Technical features

Monophonic tuner part

FM 87 to 100 MHz

SW 5.9 to 16 MHz

MW 510 to 1620 kHz

LW 145 to 350 kHz

Rotatable ferrit antenna

Electronic tubes

1 ECC 85

1 ECH 81

2 EF 89

1 EABC 80

2 ECC 83

2 EL 84

1 EM 84

Output
Surround

Reverbeo effect continuously ajustable

Tone adjustments

a Bass tone knob

a High tone knob

4 X 800 ohms loudspeakers
Turntable

Automatic record changer 16 2/3, 33 1/3, 45 and 78 RPM

Piezo-electric stereo head

Automatic disk size detection

Inputs

Stereo tape deck or Auxiliary

Miscellaneous
Photo: thanks to Andrée Jeantaud