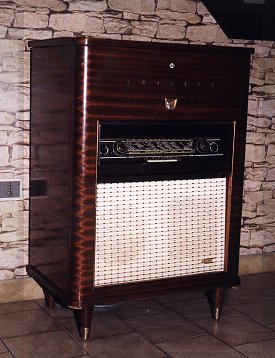 F5F74/01
This wonderful set avoided the trash in extremis.
People who relieve themselves of such marvels ignore what they do...
---

The cabinet is in an excellent condition ; however, electronics need an important restoration.
Some capacitors have to be changed and some tubes too.
The time is short to work on it now.
Technical features

Monophonic tuner part

FM 87 to 100 MHz

SW 5,9 to 16 MHz

MW 510 to 1620 kHz

LW 145 to 350 kHz

Rotatable ferrit antenna

Electronic tubes

1 ECC 85

1 ECH 81

1 EF 89

1 EABC 80

1 EL 84

1 EZ 81

1 UL 84

1 EM 81

Output

Tone adjustments

a Bass tone knob

a High tone knob

Loudspeakers
Turntable


Automatic record changer 16 2/3, 33 1/3, 45 and 78 RPM

Piezo-electric stereo head

Automatic disk size detection

Inputs

Stereo tape deck or Auxiliary

Mains voltage

Power consumption
Photo: thanks to Sylvie Arnaud