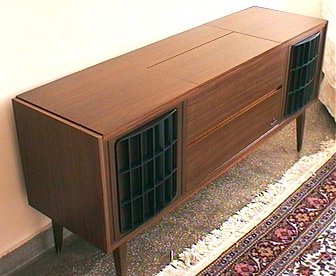 ROSSINI 6 (1970)
Equiped with transistors, this console expresses the direction given by Grundig to its products at the home of the 70's : always the highest quality level, without compromise.
---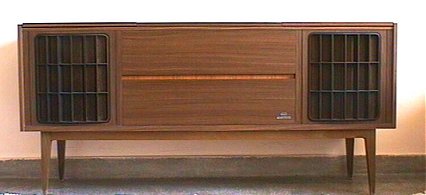 The technical description and the pictures have been graciously supplied by M. Emrah Oral from Turkey. He's the happy owner of this console.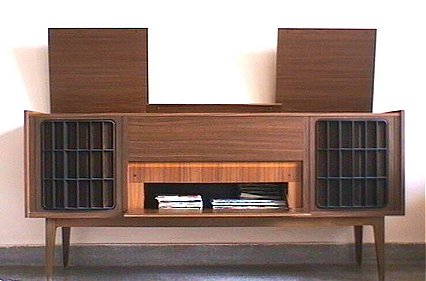 This set was the best loved source of music during the early years of the owner. This is why it has a particular place in his heart.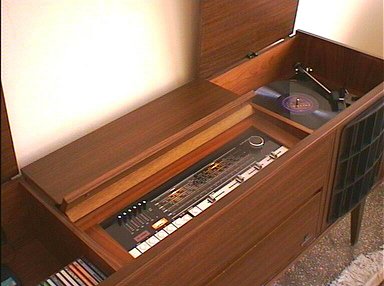 Technical features

Tuner part

Semi-conductors

25 transistors

17 diodes

3 Zener diodes

3 rectifiers

Output
Surround

Mono-Stereo switch
Stereo balance adjustment

Tone adjustments

a Low tone knob

a High tone knob

4 Superphon loudspeakers

2 Boomers

2 Mid-tone tweeters

DUAL 1211 turntable

Automatic record changer 33 1/3, 45 and 78 RPM
Turnplate diameter : 10 5/8"
Speed pitch adjustment : approx 6%
Speed accuracy and deviation < +-0.17% according to DIN 45 507

Rumble >35 dB below signal level in accordance to DIN 45 500

2-Pole Dual Single phase induction motor

Power supply switchable through chassis

Inputs

Stereo tape deck
Auxiliary

Miscellaneous

VU meter as an aid in helping accurate tuning
Stereo indicator
Disks compartment

Tape-deck compartment

Mains voltage
Mains frequencies

Power consumption