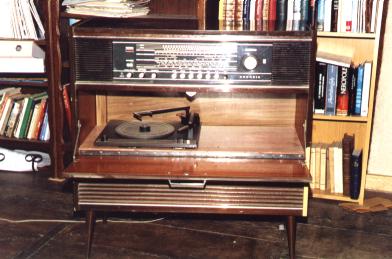 COMO e/ST (1966)
Evolution of the COMO d/ST, this home of range model found easily its place in tight sitting rooms as well as in short place rooms. This doesn't mean low performances...
Technical features

Tuner part

FM 87 to 104 MHz

SW 5.9 to 16 MHz

MW 510 to 1620 kHz

LW 145 to 350 kHz

Switchable ferrit antenna in MW / LW

Socket for FM stereo decoder

Electronic tubes

1 ECC 85

1 ECH 81
1 EAF 801
1 ECC 83
1 ELL 80
1 EM 87

Output

Tone adjustments

a Low tone knob

a High tone knob

2 Superphon loudspeakers

AG 1035 turntable

Automatic record changer 16 2/3, 33 1/3, 45 and 78 RPM

Piezo-electric stereo head

Automatic disk size detection

Inputs

Miscellaneous

Lightning of the turntable

Disks compartment

Printed board assembly
Photo: thanks to Jean Dauphin
Downloadable diagrams:
Caution, you will need some memory to be able to open these TIFF files...
Please note that these diagrams also apply to the MANDELLO d/ST which has only a different cabinet.